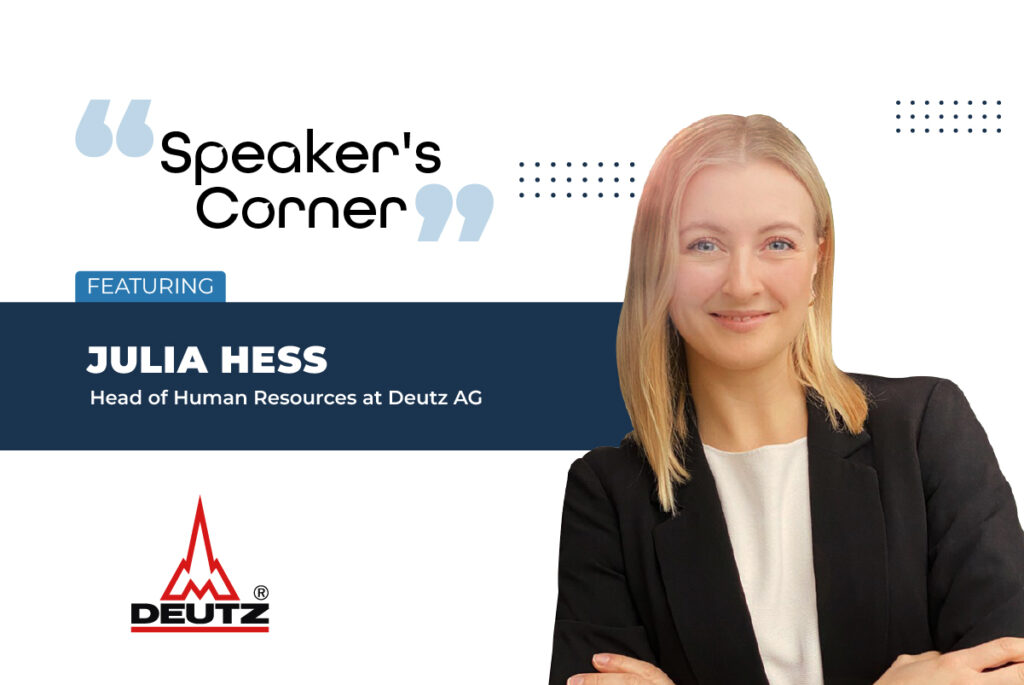 With a background in Business Psychology, Julia Hess's ( Head of Human Resources at Deutz AG) professional journey commenced within the academic realm, where she assumed roles as a lecturer and human resources developer. Her initial focus revolved around leadership and team development, contributing to the growth of individuals and organizations.
Over the last three years, she ventured into the corporate sector, taking on significant responsibilities in international human resources and organizational development at Thyssenkrupp Bilstein GmbH. This important career chapter marked an unwavering commitment to talent management, learning, and retention. What excites her the most about her role is its opportunity to leverage her "Signature Strengths" daily – optimism, curiosity, interest, and enthusiasm. These strengths, she says, empower her and serve as a source of inspiration for the talented individuals she works with.
In an interview with Eventible, Julia speaks about her motivations behind pursuing a career in HR, her primary responsibilities as the Head of Human Resources at Deutz AG, her experience at Talent Management Reloaded 2023, and more!
What inspired you to pursue a career in HR?
For me, working in HR means dealing with "people" – networking and meeting new and interesting talents is the most important part of my job. As an HR professional, I have the opportunity and vision to change the lives of everyone I interact with – placing talent in career-defining positions, connecting employees to the company that gives them fulfilling work, and cultivating a workplace culture of inclusion and inspiration.
What are your primary responsibilities as the Head of Human Resources at Deutz AG?
As Head of HR, I am responsible for our globally aligned HR strategy, synergies, and projects that drive HR worldwide. In addition, my area of responsibility is the global recruiting factory with projects such as employer branding, a global approach to talent management, learning and development, and HR digitization.
Can you share your experience of presenting at the Talent Management Reloaded 2023?
I appreciate the exchange and learning from each other. I led the discussion on Talent Management and cultural implications: Managers as role models for corporate culture and talent development and measuring the success of (culture) development initiatives and took home many exciting approaches. The event was a lot about HR standing up for their own purpose and defining a clear strategy and vision. This should be permanently communicated to the company, supported by everyone, and stringently pursued.
How does Deutz AG ensure its talent management strategies are adaptable and aligned with its long-term goals?
Our corporate strategy identifies four specific projects and goals that address talent development, retention, and attraction. They are also entitled to PASSION initiatives and clearly show how much value is placed on them.
What advice do you have for HR professionals aspiring to reach leadership positions within their organizations?
I would recommend everyone seek to understand the company as a system, leave their comfort zone in HR, and think outside the box. How many synergies and needs arise in other areas that HR can solve is amazing. We are an all-rounder and should act like it. This is the way to take responsibility in the future.
What strategies do you employ to attract, retain, and nurture top talent within Deutz AG?
Our Talents@Deutz talent management program focuses on the global identification, development, and retention of top potentials through networking events, individual development plans, and involvement in strategic projects. In addition, we are working hard to create our employer brand and associated Candidate Journey processes.
Can you share a specific talent development program or initiative at Deutz AG that has yielded positive results and contributed to the organization's growth?
Our DEUTZ Mentoring Program provides a mentor (experienced executive) with his knowledge and experience as well as his network to a mentee, a younger / less experienced person, over a 12-month period of time. In so-called tandem meetings, the mentor advises on professional topics, career options, personal development, or other topics that the mentee brings to the discussion. Shadowing is another important part of mentoring. The mentor accompanies the mentee in a work situation or gives the mentee the opportunity to participate in his or her work practice and to reflect on the observations together. DEUTZ Mentoring is a very successful program, a flexible, adaptable, and individual learning method focused on learning on the job in the work environment of the mentee and the mentor.
How do you stay updated with the latest HR trends and expand your own skill set as a leader in this field?
My favorite social network is LinkedIn, where I get HR news, make new contacts and receive event invitations. I also subscribe to a number of newsletters and podcasts and regularly exchange information virtually across company boundaries in experience groups. Networking and expanding it is the key word for me.
Could you recommend any HR-related conferences, workshops, or resources that you find valuable for HR professionals looking to enhance their knowledge and skills?
For me, it's the offerings of the German Society for Human Resource Management.
How do you find Eventible as an event review platform?
Everyone reads reviews, and real reviews are crucial for our decision before we buy something. That's why I find the Platform super helpful and am happy to participate.
How was your experience at Talent Management Reloaded 2023? What was your key takeaway?
It's a lot about HR standing up for its own purpose and defining a clear strategy and vision. This should be permanently communicated to the company, supported by everyone, and stringently pursued.