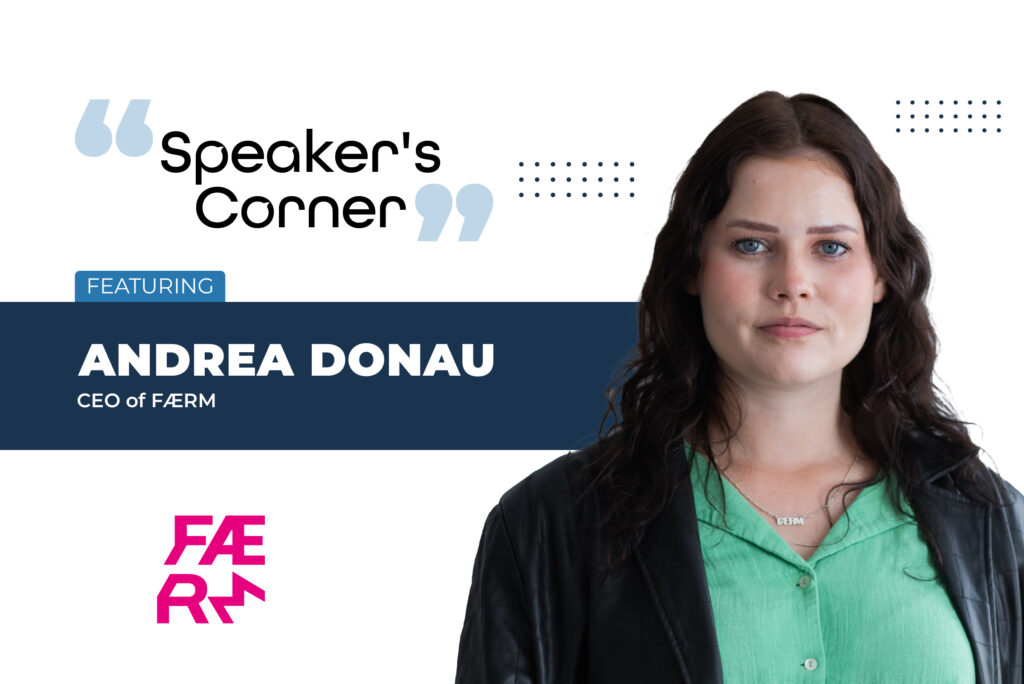 Andrea Donau is the CEO of FÆRM, which she co-founded in 2020. With a degree in food technology and a passion for cheese, she strives to improve alternative dairy offerings for the industry.  In an interview with Eventible, she speaks about her passion for the changing food culture, her journey so far, her experience at TechBBQ 2023, and much more!
What sparked your passion for changing the food culture and developing plant-based cheese?

I have always been obsessed with food – I started cooking when I was old enough to hold a dull knife. Cheese has always had a special place in my heart because it's so many different things and has a wide array of applications – it just makes everything better, from comfort food to salads to dessert.
During my education as a food engineer, I became better acquainted with plant-based foods, and plant-based cheese sparked my interest immediately. Seeing the limited types on offer and how their ingredient lists were long, difficult to understand, and contained little nourishment made me want to try a completely different approach. I believe everybody deserves the joy of cheese and refuse to believe that
this was the best that could be done.
Can you provide an overview of your journey and what led you to become the CEO of FÆRM?

While studying to become a food tech engineer, I met my now-cofounder at my student job selling newspaper subscriptions. Mikkel is educated in law and business, and as a lactose intolerant, he found my experiments at my university with plant-based cheese very interesting. We quickly bonded over the idea of founding an alternative dairy start-up together, and in the summer of 2020, we got accepted into
Innofounder Graduate. A year after that, we got accepted into GreenUP, and with that convertible note, we made our first three hires and built a homemade laboratory in a basement in the suburbs of Copenhagen. Just four months later, we had our first functioning prototype.

Your LinkedIn profile mentions your belief in using science to transform plant cheese. Can you share how scientific innovation plays a role in developing and enhancing plant-based cheese products?

Denmark has a very scientific approach to optimizing dairy technology – in fact, it's a very defining aspect of biotechnology in Denmark. The knowledge that we as a society have accumulated about cheese is extremely valuable, and at FÆRM, we believe that plants and dairy alternatives deserve the same respect and attention to detail as their dairy counterparts. Therefore, we take the same scientific approach to
our development and incorporate and translate as much dairy technology into the alternatives as possible. Specifically, that means enzyme treatment (think rennet), fermentation, and maturation.
What sets FÆRM apart in the plant-based cheese industry?

Many cheeses on the market result from modified starches and emulsifiers, stabilizers, etc. At FÆRM, we look to dairy cheese as our golden standard, and in cheese, it is the amazing protein network that carries the structure. We want plant cheese to be as simple and clean as dairy cheese, where the different properties, such as taste, color, functionality, etc., come from high-quality ingredients that are not
over-processed. This means that we have to get our simple ingredients to promote certain textures, flavors, properties, and functions through familiar treatments such as enzyme treatment, maturation (fermentation), and mechanical treatment (blending, pressing, etc.)

How does FÆRM manage to appeal to a wide range of consumers?

Our business model revolves around sharing our knowledge of dairy technologies in plant matrices. We will never know as much about large-scale production and the specific needs of target groups as the large food producers; therefore, our solution is to team up. Our technology allows us to design and tailor unique products for our customers that fit what consumers in Germany expect of brie and a different version to consumers in France, for instance.

Our technology is as flexible as dairy technology itself, and licensing that technology to large food producers enables them to appeal to a wide range of consumers for us; it means that a lot of consumers worldwide get to try the newest wave of alternative dairy at the affordable price that comes with producing at large scale.

How does FÆRM incorporate scientific research and innovation into developing and producing its plant-based cheeses? Are there specific technologies or methodologies that have been particularly impactful?
At FÆRM, we have a very market-driven approach to research – meaning that we always strive to find what works rather than doing preliminary experiments to understand all the different aspects of what could work.

At FÆRM, we strongly focus on protein and enzyme science to achieve the unique protein/fat matrix that gives our products and dairy products their structure. This is our alternative to using starch and coconut oil for textural purposes, and we can implement our enzyme technology on a broad spectrum of proteins
depending on our customers' needs. Fermentation is, of course, another valued technology in our repertoire. In fact, that's where our name comes from – fermentation is pronounced in Danish with the letter æ.
7. What are some of the challenges and opportunities you've encountered in the plant-based cheese industry?

When we were exploring different options for our go-to-market strategy, we briefly looked into setting up our own plant-based dairy plant. However, the high upfront costs associated with this strategy kept us from going in that direction. We see many of our colleagues within the plant-based sector struggling with it, too – running a large-scale production, keeping products on shelves, and spending huge amounts on marketing.

Another challenge we have encountered is the general aversion to soy we have experienced in our customer talks – soy has a bad rep. The soy we have always used is organic and sourced from France, which counteracts the bad rep in many ways. One of our key learnings has been that consumers, first and foremost, want to have great products with great nutritional value, and in that sense, soy is a fantastic legume. But we are also researching other legumes to offer our customers a wide range of products.

Being a startup, funding is always on top of your mind, and when you work with a product like ours that is deeply founded in science and research, it is even more important to have capital, given that the journey to market is often long. We have been extremely lucky on our journey and have received a lot of goodwill from researchers and university professors who have worked with us on different projects with students. This has given us the opportunity to develop our products. Now that we have access to other lab facilities through our participation in BII's Venture Lab program, we are trying to give back to the community by providing more students with the possibility of working together with us on projects and doing their thesis in our facilities.

Through customer dialogues, we have understood that the market for a technology like ours is much broader than we originally thought. We initially thought that our main customers would be dairy plants, but we have realized that players within the plant-based sector are looking for a good solution for plant-based cheese. Due to the flexibility of our technology, we can customize it to fit the needs of most food producers.

This means that we can offer a solution for not only dairy plants but also plant-based food producers, producers that do hybrid products (e.g., A combination of plant protein and dairy protein), and, in general, with the space of the alternative dairy protein. In other words, we have realized that the market is much bigger than we initially thought, and we very much see ourselves as an industry enabler. This will also allow our technology to have the largest environmental impact.
8. How do you imagine the future of plant-based cheese, and what role do you see FÆRM playing in that future?

FÆRM believes that ditching dairy should not come at the expense of enjoying cheese. Alternatives to cheese are in demand, both for people who cannot eat dairy and for people who are concerned about the effects of dairy on the environment or on animal agriculture in general. Cheese is an amazing product that we understand is difficult to give up, especially when the alternatives often do not meet our cheese expectations. That is why FÆRM is setting out to provide a more authentic, high-quality solution, providing a real alternative that is tempting for anyone. We believe that to mimic cheese, perfected over thousands of years of tradition and decades of admirable science, we must look at the alternative from a dairy perspective, utilize the knowledge that is already out there – and use it in innovation for the future.
9. How was your experience at TechBBQ 2023, and what was your key takeaway?

It was great to participate in TechBBQ. It is always a great opportunity to meet stakeholders from different areas of the ecosystem, share their experiences, and network with people from many different companies and organizations.

When you work in a startup, it can sometimes be difficult to find the time to get new inspiration, so having the possibility through a yearly event is, in my opinion, very beneficial. I also believe TechBBQ is removing barriers in the ecosystem, which is essential. It was a great experience for me to speak about mental health, knowing that many VCs were among the audience and seeing that the founder's mental health was important to them. Sharing all of our experiences is, in my opinion, key to creating a thriving community for both companies and investors.
10. How do you find Eventible as an event review platform?

Eventible is straight to the point and easy to navigate. I like it.