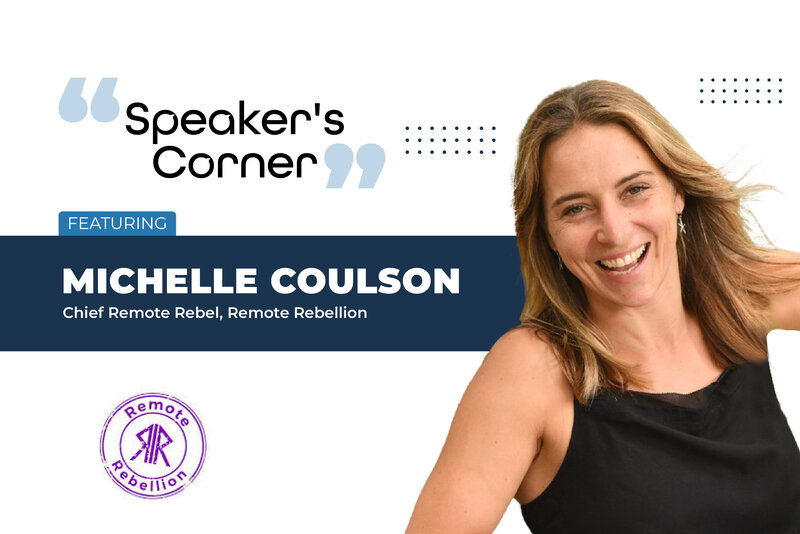 Michelle Coulson has been guiding numerous remote job seekers in securing positions at various companies with the help of her initiative, Remote Rebellion. With more than nine years of recruitment expertise under her belt, Michelle has reviewed countless CVs/resumes and conducted interviews that resulted in hiring numerous professionals across various domains such as Marketing, Tech, Digital, Admin, and Design.
She possesses the knowledge and insights necessary to help one stand out amidst the sea of applications and get a job that resonates with their values, enabling them to craft a lifestyle of their choice. In an interview with Eventible, Michelle speaks about her inspiration behind starting Remote Rebellion, the most common misconceptions about remote work, her experience speaking at Nomad City Festival 2023, and more!
Can you tell us about your journey and what inspired you to start Remote Rebellion?
I love travel and adventure! I spent years traveling worldwide and avoiding what society calls 'the real world' for as long as possible. But in my late 20s, the pressure to grow up, get a 'real job,' and 'settle down' directed me to a career in recruitment; for a while, I was content.
In 2017, I introduced a remote work policy at my company that allowed people to work remotely up to 4 days a week.
Then, the pandemic came, and, along with many others, I worked 100% remotely. I slept better, ate more healthily, and had no commute draining my free time- I had an extra 2-10 hours every week!
In early 2021, I booked a flight to Bali to enjoy the last of my freedom working from anywhere until the inevitable call back to the office came.
Then, the call from my boss came to return to the office in London! But I didn't want to leave Bali and return to city life, so I quit my job and decided to stay in Bali.
However, I had no savings, and getting a remote job was much harder than I'd ANTICIPATED. This was despite my seven years of recruitment expertise and vast network!
I learned a LOT during this time, and after a few months, I secured two remote freelance roles, helping two remote first startups to hire remotely. I knew others weren't so lucky, and it was the start of companies demanding people back into the office!
So, I established Remote Rebellion to help others who want the freedom and flexibility that a remote job brings!
Remote work has become increasingly popular in recent years. What do you believe are the key advantages and challenges of remote work, and how has Remote Rebellion addressed these issues?
People want more freedom and flexibility. They are looking for their ideal work-life balance, avoid wasting time commuting, and spend more time with their families or even with themselves and improving their quality of life.
Our mission at Remote Rebellion is to enable people to live the life that they choose by getting a remote job that suits the life they design.
What are the most common misconceptions about remote work, and how can individuals and organizations overcome them?
Some of the misconceptions are:
i) Remote Workers Are Less Productive: this is not true; remote workers report increased productivity due to reduced office distractions and the ability to customize their work environment.
ii) Remote Work Is Isolating: Remote working isn't lonely if you put yourself out there. Find a tribe a community, and stay connected through video calls, messaging apps, and virtual team-building activities.
iii) Remote Work Means You're Always Available: Remote work often allows for more flexibility regarding when and how work is done. Setting clear boundaries and work hours is essential to prevent burnout.
As a remote work advocate, what trends or changes do you see happening in the remote work landscape in the next few years?
I see older, larger organizations calling people back to the office. They'll take longer to hire and have to pay higher salaries.
Most new companies where jobs can be done remotely will not bother getting office space. They will have co-working membership options for their teams instead.
Can you share some success stories or examples of companies or individuals who have benefited significantly from the services and guidance provided by Remote Rebellion?
Victoria, Senior Account Manager- Moved from NYC to Spain
Victoria quit her job in NYC due to burnout and spent months job hunting with no success. She joined the Remote Job Academy and landed THREE freelance gigs in just a few weeks! She moved from NYC to Spain and is happier than ever!
Ellie, an undergrad living in the UK, dreams of the freedom of remote work.
She had her fair share of uncertainty regarding her career path and a burning desire to explore beyond the UK's borders. But guess what? She found her path to success through the Remote Job Academy.
Even before graduating, Ellie got a head start, giving her the confidence and stability she needed. No longer feel pressured to follow the traditional job route or rely solely on college counseling.
You can see many more here: https://remoterebellion.com/testimonials
Remote work can sometimes lead to feelings of isolation or disconnection. How does Remote Rebellion address the mental health and well-being of remote workers?
We have a community of Rebels that provide support, guidance, and understanding. We conduct regular check-ins and provide a space for open communication. These check-ins are designed to ensure that remote workers feel heard and supported.
Remote work often raises questions about cybersecurity and data protection. How can companies ensure the security of remote work setups, and what measures should remote employees take to protect sensitive information?
Develop a Remote Work Policy that outlines security expectations, acceptable use of company resources, and guidelines for handling sensitive data outside the office.
Ensure that remote employees have secure, encrypted connections to the company network. Use Virtual Private Networks (VPNs) to encrypt data transmitted over public networks.
Keep all software, including operating systems and security software, up-to-date with the latest patches and updates to address vulnerabilities.
Restrict access to sensitive data based on job roles and responsibilities. Use access controls and permissions to limit who can view, edit, or delete certain data.
Regularly back up important data and ensure remote employees follow backup procedures. This helps in case of data loss or ransomware attacks.
Use a secure and private Wi-Fi network. Avoid public Wi-Fi networks for work-related tasks whenever possible, or use a VPN for added security.
Use complex passwords or passphrases for all accounts, and avoid using the same password across multiple sites. Consider using a password manager.
Enable multi-factor authentication on all accounts and devices whenever possible.
What are some of the challenges you faced when starting Remote Rebellion, and what valuable lessons did you learn along the way?
I've learned many lessons, but mainly to just go for what you want, ask for help, and always offer value to people!
In your experience, what skills or qualities are particularly important for remote workers to possess to thrive in their roles?
Communication skills, ability to self-motivate, and discipline.
Remote Rebellion offers various resources, including courses and webinars. Could you highlight some of the most popular or impactful resources available to remote workers and organizations through your platform?
We provide Lifetime access to the Remote Job Academy online course, 120+ specialist job boards, a curated list of 1000+ remote-first companies, 50+ step-by-step video tutorials, 30+ action guides & scripts, Handpicked remote jobs just for you, and more.
How was your experience speaking at Nomad City Festival 2023? What were some of your key takeaways?
I loved it! It was my first speaking event, so I was pretty nervous, but the whole team was so welcoming and put me at ease. It confirmed to me that community is the most important thing for nomads and remote workers, and it really does contribute to your productivity and well-being.
As the founder of Remote Rebellion, what are your long-term goals and visions for the organization, and how do you plan to continue supporting remote workers and businesses in the future?
Currently, RR is helping remote job seekers find a remote job. I plan to leverage the large community of remote first employers to help them to hire remotely- so essentially be the go-to place for any remote-first business who wants to hire and any job seeker looking for a remote job!